April is an uplifting month in the gardens, as we enjoy Spring sunshine and the breathtaking sights of beautiful blossom on cherry, apple, magnolia and lilac trees. It's exciting to see new green leaves appearing on once-bare branches. Everything is growing, new shoots and buds are full and ready to burst, and birdsong fills the air – it's a great time to get gardening.
Plantwatch
Look out for…
Tulips – multi-coloured and cheerful, brightening up gardens, parks and green spaces everywhere
Choisya varieties – a favourite garden shrub, coming into flower now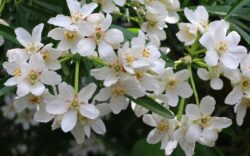 Pieris 'Forest Flame' – a very interesting shrub, deep red new spring leaves and white bell-like pendant flowers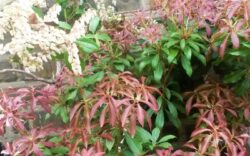 Good time to…
Start this season's lawn care – lawn treatment, scarifying, aerating, top dressing & seeding
Tie in clematis, honeysuckle and rose climbers
Sow herbs and vegetables, and plant up strawberry plants
Gardens in the news
Further proof of the benefical effects of gardening – this article shows how gardening during lockdown helped create a sense of community and lift the spirits of people across the UK.
The Natural History Museum is planning and fundraising for the Urban Nature Project, transforming its grounds into a huge wild space in the heart of Kensington, to promote appreciation of the outdoors and conserve wildlife.
Learn more about our most common urban trees.
Fascinating quick video on how trees help and communicate with each other!
Plant facts – Blossom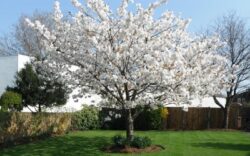 Blossom is one of the loveliest sights of spring. Blossom is the flower of stone fruit trees, such as apple, pear, cherry and plum, ranging from white to light to bright pink.
Damson, elder and hawthorn trees also feature delicate white flowers, and magnolia trees are most spectacular in bloom.
The Japanese practice of Hanami (flower viewing) sees millions of people enjoying the annual spring blossoms, walking and having picnics and parties among the flowers. The most prevalent are the Sakura (cherry blossoms).
In Japan cherry blossoms are seen to symbolise clouds, as they bloom en masse and are a metaphor for the ephemeral nature of life.
There are around 430 varieties of Prunus, the botanical name for plum, cherry, peach, nectarine, apricot, and almond trees.
Apple trees are of the genus Malus domestica and pear trees are the genus Pyrus communis.
The Japanese government have created the Sakura Cherry Tree Project, planting 6,000 Cherry trees in the UK in 2020 and 2021, to celebrate UK-Japanese relations and culture. Many of these will be flowering in parks near you!
The National Trust celebrated the first ever #BlossomWatch Day on 24 April 2021, encouraging the nation to share their best pictures of blossom to celebrate. See their website for a selection of the best photos, a specially-commissioned poem, craft and blossom appreciation activities.
The RHS best ornamental cherry trees.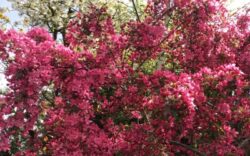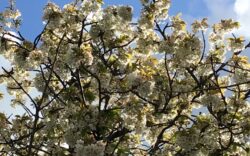 Company news
Summer bedding planting completed at The White House Apartments, South Bank, Waterloo
Large garden planting scheme completed in Clapham
Seasonal tidy ups in New Malden and Coombe
Lawn care programmes carried out in Coombe and Wimbledon
Please contact us for any of your gardening requirements
Best wishes
Toby and The Urban Gardeners team