It's the height of summer and we are enjoying the many varied blooms and rampant growth in the gardens (also thanks to the recent heavy rain!). However regular watering is still needed to keep everything looking green, colourful and healthy. Plus keep on track with regular weeding and pruning of shrubs to shape and maximise flowering. Read on for beautiful gardens to visit and events to enjoy this summer.
Plantwatch
Look out for…
Crocosmia – Montbretia – Emberglow and Lucifer are two varieites we have recently planted. Sword-like green leaves with amazing vivid red flowers that catch the eye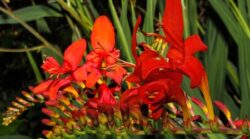 Erigeron – Mexican fleabane – small pretty daisy-like flowers, ideal for wall or paving crevices, self-seeds and spreads easily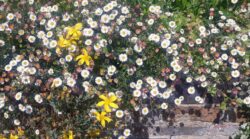 Lavandula – Lavender – many varieties, intense purple colour, prized for its fragrance and popular with bees and butterflies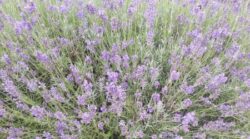 Good time to…
Water lawns early morning or late at night or both!
Keep container plants well-watered and fed
Deadhead Roses to encourage repeat flowering
Gardens in the News
You can now visit one of the most beautiful gardens in London – the Queen's own garden! Buckingham Palace is opening the garden gates for us to enjoy picnics in the 39 acre site which has an abundance of wildlife right in Central London. Discover the 156-metre Herbaceous Border, secret waterfall and 3 acre lake, on whose island live the Palace bees. Tickets selling fast, discover more with this insider guide and video tour.
Painshill Park in Cobham, Surrey is a picturesque 18th century landscaped park, with a lake, grotto, ruined chapel and vineyard. Now it's summer there are many exciting outdoor events planned in the gardens, including comedy, theatre, cinema, tai chi, and drawing and painting workshops.
Great gardening tips from The Guardian on how to extend the growing season and prolong your plants, including dahlias for colour, caring for tomato plants and collecting seeds.
Mayfield Lavender Farm near Banstead, Surrey is a stunning place to visit and wander through 25 acres of lavender fields. There's also a cafe and shop on site to purchase your own lavender plants or products. Open June to August.
Plant Facts – Gaura lindheimeri – Whirling Butterflies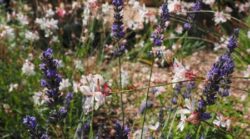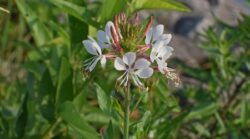 A graceful perennial with long slender stems, which hold white fading to pink, star-shaped flowers from May to September.
Ideal for inclusion in planting schemes for its versatility, drought-tolerance and long flowering time.
This clump-forming deciduous perennial can reach up to 1m high and 50cm wide.
It enjoys a sunny position with fertile, moist, well-drained soil, and is fully hardy.
• Great in an informal planting setting or cottage garden
• Looks lovely intertwined with grasses in an herbaceous border
• Can be planted in large clumps for effect, or can be used as dot plants throughout the border
• Gives good airy height to a planting scheme, and moves freely to give interest
Enjoy these delicate flowers that are aptly named for little butterflies fluttering in the breeze.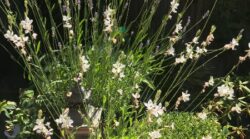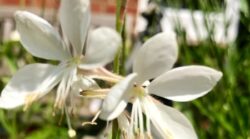 Company news
Please do get in touch for any of your gardening needs
Best wishes
Toby and The Urban Gardeners team