March in the gardens is a special time as bright spring flowers burst into life after the long dormant winter. The spring colours are an uplifiting sight – cheery yellow Daffodils and Forsythia, pretty white yellow and green flowers of Hellebore and Euphorbia.
Gardening tasks for March include tidying up bare winter stems, cutting back grasses, and weeding and turning over soil in flowerbeds. You can also start the first lawn mowings of the season on sunny dry days, as grass starts growing again.
Plantwatch
Forsythia – bright yellow flowers burst through on bare winter stems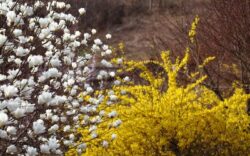 Euphorbia amygdaloides var. Robbiae – pretty lime-green flowers in spring with glossy dark green leaves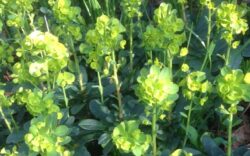 Hellebore augutifolia – pale green flowers and attractive foliage
Good time to…
Plant summer-flowering bulbs
Hoe and mulch beds to feed soil and suppress weed
Add new planting to beds and borders
Start planning which seeds you will plant for vegetable patches
Gardens in the news
Hedgehog Street is a useful website which campaigns to help hedgehogs. There are lots of helpful tips on how to make your garden hedgehog-friendly with log piles and wildflowers, which also boosts other beneficial wildlife in our gardens.
And team up with your neightbours to create Hedgehog Highways by making a hedgehog-sized hole in your garden fence or wall!
See this hedgehog success story in Barnes south west London.
Yet more benefits of being in nature… the Japanese art of Shinrin-yoku, forest bathing, is now becoming more known in the UK. You can choose from an organised forest holiday, beautiful National Trust forest recommendations – or just go for your own lovely walk in the woods!
Plant facts – Daffodils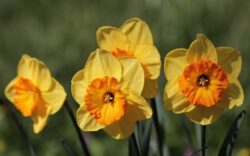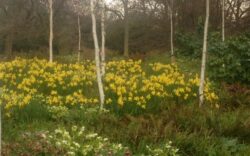 Daffodils are grouped under the botanical term Narcissus. There are thought to be around 25 different daffodil species and up to 13,000 hybrids.
Daffodils are usually bright yellow, with many more varieities having different combinations of white, yellow, orange and green colours.
Daffodils are seen as one of the heralds of spring, and are the birth flower for March.
It is the National flower of Wales and celebrated on St David's Day 1 March. Also the 10th wedding anniversary flower.
In China the daffodil represents good fortune; in Japan, the daffodil symbolises joy, and is a sign of hope in France.
In Greek legend Narcissus was a beautiful but vain youth, who so admired his own reflection in a pool, he was punished by the gods and turned him into this flower.
Read about one journalist's challenge to pick daffodils for the day.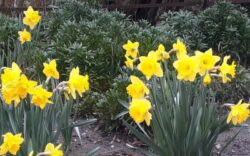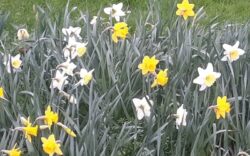 Company news
New garden maintenance contract awarded in Clapham
Garden design and planting scheme in New Malden
New planting completed in Coombe
Do please feel free to contact us to discuss any of your gardening needs
Best wishes
Toby and The Urban Gardeners team