May is busy in the gardens, as recent rain and sunshine means the growing season is truly upon us. Herbaceous borders are growing and trees are full with lush green leaves. Horse chestnut trees are heavy with their pink and white blossom, and lilies and iris are coming out now in vibrant purple, white and yellow. Rhododendrons and azaleas are spectacular in full flower. Read on for plants to spot now and this month's gardening tasks.
Plantwatch
Look out for…
Wisteria floribunda – spectacular clusters of violet-blue, pink or white flowers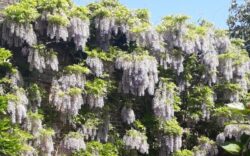 Ceanothus 'Concha' – dense deep blue flowers with dark green leaves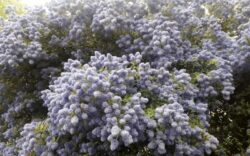 Photinia 'Red Robin' – evergreen shrub with bright red new growth leaves and pretty white flowers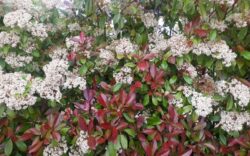 Allium – bright purple lollipops give a splash of colour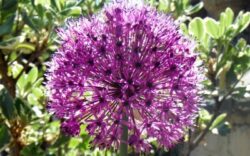 Good time to…
Choose your colourful summer bedding plants for windowboxes and pots
Water your plants early or late in the day to maximise the benefit
Mow lawns every week now
Gardens in the News
Kew Gardens has launched a programme of wellbeing events, to enjoy within the gardens and glasshouses. Sessions include forest bathing, yoga, pilates and tai chi. See the events here
As we wait for the RHS Chelsea Flower Show, postponed to Autumn 2021, catch up on recent events at Virtual Chelsea – including interviews with designers and experts, and how-to guides on all things plants and flowers.
More good news stories on how people took up gardening during lockdown – see these unique front gardens. Ingenious ways to maximise outdoor space, to create inviting colourful gardens full of flowers, fruit and vegetables.
Plant Facts – Rhododendrons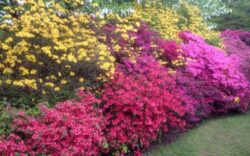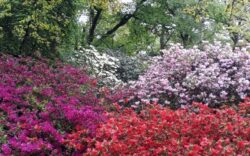 Rhododendrons have a beautiful array of flowering colours with stunning red, pink, purple, white, orange and yellow flowers
Flowering season is April, May and June, with glossy mid and dark evergreen leaves throughout the rest of the year
The national flower of Nepal
Rhododendrons tend to be large to medium evergreen shrubs, while their relatives Azaleas tend to be smaller and can be deciduous
The plants originate mainly from the Himalayas and there are around 1,000 species
They grow best in high rainfall in acid soil with dappled shade
Popular woodland shrubs which also create a lovely feature within formal gardens
Isabella Plantation in Richmond Park is famous for its spectacular display of rhododendrons and azaleas.
The Rhododendron protistum var. giganteum is a giant variety growing up to 100 feet / 30 metres tall. You can also choose dwarf varieties up to 80cm tall, for small spaces such as rock gardens and alpine gardens.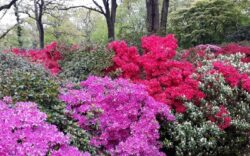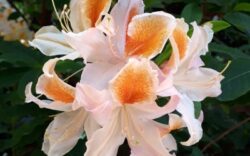 Company news
Please do get in touch for any of your gardening needs
Best wishes
Toby and The Urban Gardeners team